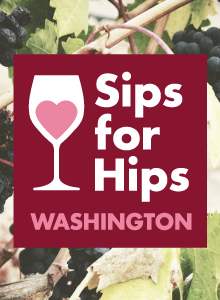 Sips for Hips Washington - 2017
Des Voigne Cellars & Brewing
14125 NE 189th St., Suite B, Woodinville, WA, 98072
Sunday, August 13, 2017 2:00 pm until 5:00 pm
Organized by: Betsy Burnett (Contact)
Event Description
Inspired by the journeys of several local "hip babies/toddlers," Sips for Hips Washington is a fundraising event for the International Hip Dysplasia Institute to help further their efforts in research as well as educating patients, families, and physicians.
Please join us at Des Voigne Cellars & Brewing for an afternoon of wine and beer tasting (2 drink tickets included,) appetizers from Urban Pantry Catering, a silent auction, raffle, and educational information about Hip Dysplasia, safe swaddling, and benefits of babywearing. In addition, we're thrilled to be partnering with glassybaby on an exclusive road show; a portion of proceeds will go to the IHDI!
Our auction list continues to grow and features a variety of great items from aden and anais, Barre3 Bellevue, BOB, Corks and Canvas Events, DeLille Cellars, Gary Manuel Salon, Jade Spring Wellness Center, Mountain Sun Massage and Skin Care, Slidewaters, Vertical World, West Coast Armory, Young Reflections Photography, and more!
Thank you to our generous event sponsors!
Who Attended
Betsy Burnett
Joseph Matthews
Diane Matthews
Megan Briscoe
Holly Ginsberg
Eugene Yang
Michele Chapman
Becca Foley
Melinda Aebersold
Shannon Naugle
Andrew Younger
Heidi Fader
Rebecca Bloom
Bethanie Thomas
Nathan Carmona
Jason Radach
Micah Hultgren
Inessa Pasko
Jenna Pennamen
Julie Beard
Jess Farwell
Courtney Sawasaki
Courtney Sawasaki Guest 1
Kat Chin